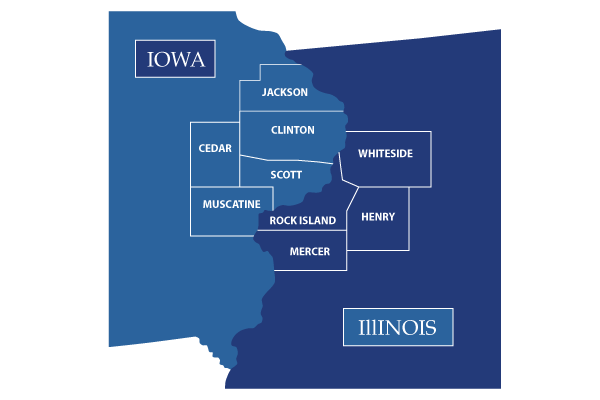 Areas We Service
Total Septic Service provides professional residential and commercial septic services as well as installation and repair of septic systems, septic tanks, new field installations, porta potty rental and more at affordable prices.  Our septic service area covers clients in the Davenport, Bettendorf, Rock Island and Moline Quad Cities, along with Eastern Iowa and Western Illinois.  Contact us today!
Jackson County, Iowa
Andrew, Iowa
Baldwin, Iowa
Bellevue, Iowa
Maquoketa, Iowa
Miles, Iowa
Monmouth, Iowa
Preston, Iowa
Sabula, Iowa
Spragueville, Iowa
Springbrook, Iowa
Clinton County, Iowa
Andover, Iowa
Big Rock, Iowa
Bryant, Iowa
Calamus, Iowa
Camanche, Iowa
Charlotte, Iowa
Clinton, Iowa
DelMar, Iowa
DeWitt, Iowa
Dixon, Iowa
Elwood, Iowa
Goose Lake, Iowa
Grand Mound, Iowa
Lost Nation, Iowa
Lowden, Iowa
Low Moor, Iowa
Oxford Junction, Iowa
Teeds Grove, Iowa
Toronto, Iowa
Welton, Iowa
Wheatland, Iowa
Cedar County, Iowa
Bennett, Iowa
Clarence, Iowa
Lowden, Iowa
Stanwood, Iowa
Tipton, Iowa
Wilton, Iowa
Muscatine County, Iowa
Atalissa, Iowa
Fruitland, Iowa
Muscatine, Iowa
Stockton, Iowa
Scott County, Iowa
Bennett, Iowa
Bettendorf, Iowa
Blue Grass, Iowa
Clinton, Iowa
Davenport, Iowa
Donahue, Iowa
Durant, Iowa
Eldridge, Iowa
Le Claire, Iowa
Long Grove, Iowa
McCausland, Iowa
New Liberty, Iowa
Princeton, Iowa
Walcott, Iowa
Western Illinois
Alba, Illinois
Albany, Illinois
Aledo, Illinois
Andalusia, Illinois
Atkinson, Illinois
Buffalo Prairie, Illinois
Cambridge, Illinois
Coal Valley, Illinois
Colona, Illinois
Cordova, Illinois
East Moline, Illinois
Eliza, Illinois
Erie, Illinois
Fenton, Illinois
Fulton, Illinois
Galva, Illinois
Garden Plain, Illinois
Geneseo, Illinois
Hampton, Illinois
Hillsdale, Illinois
Hooppole, Illinois
Illinois City, Illinois
Joslin, Illinois
Joy, Illinois
Kewanee, Illinois
Milan, Illinois
Moline, Illinois
Morrison, Illinois
New Boston, Illinois
Newton Corners, Illinois
Port Byron, Illinois
Prophetstown, Illinois
Rapids City, Illinois
Rock Falls, Illinois
Rock Island, Illinois
Silvis, Illinois
Sherrard, Illinois
Sterling, Illinois
Taylor Ridge, Illinois
**Sorry we are not licensed in Illinois at this time for portable sanitation.